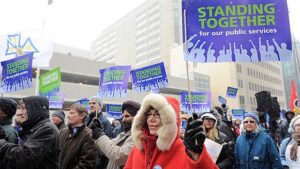 Stephen Harper famously said that "you won't know Canada when I am through with it". Since coming to power in 2006, he has systematically set out to further weaken Canada's social safety net, cut essential public services, and eliminate agencies and programs that engage in advocacy, public policy and promote democratic engagement. Harper's austerity agenda follows the wave of cuts begun in the mid-1990s by the federal Liberals under Jean Chrétien and Paul Martin.
If re-elected, there is worse to come. Harper has planned cuts of $43.5 billion in health spending. Reduced health care transfers to the provinces over the coming years will seriously undermine health services and result in the loss of national health standards. Decrying this, the editorial of the Canadian Medical Association Journal, opined:
Recent years have seen Canada's health care system race to the bottom of quality rankings compared with peer nations that have prudently invested in maintaining a strong social safety net… Of great concern is the change in the federal philosophy behind funding — areas that are more aligned with business interests are increasingly favoured.
The Harper government has carried out a long list of cuts
Employment insurance: Less than 40% of unemployed Canadians now receive EI benefits. The processing of claims has slowed down with the cut in staff positions and elimination of EI claims centres (from 120 to just 22 centres).
Environmental Protection: The Government's own reports indicate that by 2017 it will have cut Environment Canada's budget by 35.8% – $390 million – since 2010. During that same period, 21% of its workforce or almost 1,500 jobs will have been cut. This includes a third of the Fisheries and Oceans Canada staff responsible for species at risk and more than $100 million from water protection. In addition, important environmental and climate change research organizations have been shut down or cut significantly (including the Canadian Foundation for Climate and Atmospheric Sciences, the National Round Table on the Environment and the Economy, and the Polar Environment Atmosphere Research Laboratory).
Food Safety: Between 2010 and 2015, the Canadian Food Inspection Agency (CFIA) had cuts of $85.9 million. By 2016, CFIA will have lost 20% of its workforce and 24% of its budget. The food safety program, which handles inspections of packaging and facilities, is facing a 22% budget cut.
Health Care: The Harper government has walked away from the health accord, resulting in $43.5 billion in cuts to health care transfers over the coming years and loss of national standards. The Canadian health transfer is reduced for all provinces except Alberta. Further, they implemented callous cuts to the Interim Federal Health Program for refugees and increased privatization through wasteful P3s.
Housing: In 1993, the Liberals axed Canada's National Affordable Housing Program. Despite call for a national housing strategy and a NDP-sponsored private members bill to create such a program, the Conservatives have steadfastly ignored these calls and voted against the bill when it came before parliament in 2013.
Immigrant services: In 2011, the federal government slashed funding to immigration settlement agencies that help new immigrants by providing language training, job search assistance, and a host of other services essential to newcomers attempting to make Canada their home.
Pensions: The Harper government shifted eligibility for old age security from age 65 to 67.
Search and rescue: Coast Guard service cuts were projected to be $20 million by 2014-15 including 300 full-time jobs. The Maritime Rescue sub-centre in St. John's, Newfoundland and the Coast Guard Station in Kitsilano, BC were both shut down over the past 3 years. 10 Coast Guard communication centres across Canada are being shut down. These centres house operators who respond to mariners in distress.
Veteran Services: In the last two years, $113 million has been cut from the Veterans Affairs budget, closing 9 offices and slashing almost a quarter of Veteran Affairs staff, most front-line positions. This means a backlog of 6 – 8 months in providing services to veterans. One in five veterans suffering from a mental illness has to wait more than 8 months before they receive help.
Women: Early in the Harper regime, regional offices of Status of Women Canada were shut down and political advocacy was stifled.
Socialist Alternative recognizes that good public services are vital to most Canadians. We campaign for the following:
Health Care: Strengthen public health care, stop privatization and P3s. A renewed health accord that provides universal public health care, including pharmacare, eye and dental services.
Housing: Establish housing as a right. Establish a national housing program to ensure affordable and accessible housing for all Canadians.
Workers: Fix Canada's broken Employment Insurance (EI) system to ensure that those who pay into the system receive the benefits they deserve. Provide a living income for those who are unemployed, disabled, stay-at-home parents and unable to work. For veterans, provide needed rehabilitation and support.
Children and families: Establish an affordable, accessible national child care program. Increase the National Child Benefit Supplement and transfer payments to the province to eliminate poverty for everyone.
Seniors: Increase the Canada Pension Plan, the Guaranteed Income Supplement (GIS) for low-income seniors and restore eligibility for old age security to 65. Establish a national home care and long-care program for seniors (under a renewed Health Accord).
Women: Provide accessible abortion services throughout Canada, support transition houses and work to end violence against women. Hold a national inquiry into missing and murdered Aboriginal women.
Education: Provide fully funded high quality public education from early childhood to university. Abolish tuition fees and end growing corporate domination of universities.
Environment: Provide access to clean water, healthy food and an environment protected by scientists and other workers who are not stifled and censored by government.
We invite you to join with us in working for a Canada for the 99%: working for quality public services, accessible health, housing, education and other supports that enable all to live well. A Canada that we'd like to recognize even if Stephen Harper does not.