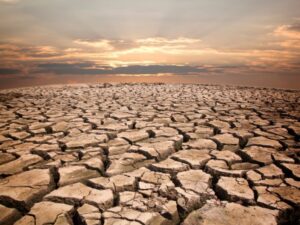 The world's climate is in crisis due to global warming. And time is running out. Environmental scientists caution that warming be held to 1.50C to avoid catastrophic changes. This year, each month has been at least 10C hotter than the baseline of the 1.50C limit. July was the hottest month on record. Each of the previous 14 months set a new record for the hottest.
This soaring heat has real impacts with more unstable and dramatic weather events. Droughts, floods, storms, heat-waves and fires are all becoming more common. In India, temperatures reached 510C in the midst of a serious drought. Hurricanes are the strongest ever recorded, with devastating impacts. California is back into a long drought with serious impacts for North America's food supplies.
In the Arctic, ice is disappearing and ice-free summers will soon be a reality. Fires, such as the 'beast' that came close to destroying Fort McMurray this May, are becoming more common and intense. Global warming is real and it is happening in Canada and around the world.
The World Economic Forum states that climate change is the most severe global economic risk, causing water shortages, crop failures and increased spread of diseases, all of which increase the number of refugees and social tensions.
At November's Paris conference, the Canadian government committed to the 1.50C goal. Yet the government is pushing for pipelines and has given the go-ahead to other environmentally disastrous projects, such as BC's Site C dam. They claim, falsely, that they need to balance between jobs and the environment. What they mean is trading off the environment for profits. The National Post reported that "Trudeau has told his senior lieutenants to draw up plans to make the Energy East pipeline and the Trans Mountain expansion in BC a reality."
First Nations, elected mayors and environmentalists oppose both pipelines, as they will boost climate change and risk poisoning thousands of waterways, used for drinking, fishing, recreation, and farming.
Most people who support the pipelines do so because they want jobs. Official unemployment has been above or around 7% since 2009, and well-paid full-time jobs are disappearing and being replaced by insecure, low-paid, part-time work. Canada needs a jobs' program.
However, pipelines are not a good way to provide jobs. Energy East will cost $15.7 billion and (according to Energy East) will provide 9,000 direct full-time jobs during construction with about 900 full-time direct jobs during operation. However, investing the same money in renewable energy, insulating buildings and public transit would provide over 100,000 good, secure, long-term jobs.
If the resources and wealth of the big corporations were democratically and publicly controlled, we would have a healthy environment and plenty of good jobs.