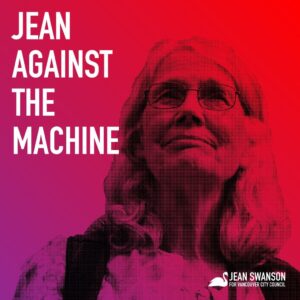 Socialist Alternative Vancouver voted unanimously to support Jean Swanson's election campaign for the City Council by-election on October 14.
Jean, running as an independent, has already gained wide support in her drive to bring a political revolution to Vancouver city hall. She is a tireless campaigner fighting for over 40 years against poverty, and for social housing and justice.
Her platform includes:
A rent freeze for four years
Move to free public transit, starting with a $5 transit pass for those experiencing poverty, as exists in Calgary
Taxing the rich to house the poor
Her campaign has committed to not take any funds from corporations and developers. The dominant parties in Vancouver, Vision and NPA, are heavily funded by developers which is why Vancouver council has done so little about the housing crisis.
Homelessness is at a record high. Poor people and communities are being driven out by gentrification. Rents are skyrocketing as the average rent for a one-bedroom unit increased 20% last year to $2,090, more than the monthly wage of a full-time minimum wage worker. At this rate, by 2021, the average rent for a one-bedroom will be $4,350, more than most people in Vancouver earn. House prices are insane. Demographia says Vancouver has the third most expensive housing market in the world.
Jean says "I'm on the side of the 99 per cent. I don't care about the one per cent, they can look after themselves." She has promised to take only the average worker's wage,  $45,000, of her $85,000 salary, donating the rest to groups working for justice.
As important as her platform is Jean's approach. She wants "to be an activist-councillor … who will really open up city hall to people who are working for social and environmental justice."
I had the joy of working with Jean for over six years. She is honest, humble, hard working, compassionate, inspiring and incorruptible. The very virtues all our elected representatives should have.
Socialist Alternative will be working hard to get her elected and change the political landscape of this city. The super-rich are destroying Vancouver. We want a city for poor and working people. Getting Jean elected will be the first step on this path.
To support Team Jean visit: www.votejeanswanson.ca/